Fostering your customer relationships is kind of an important piece of customer marketing, wouldn't you say? So, are you keeping up with your growing customer base?
If not, one of the customer reference platforms we're highlighting in this quick article (extracted from our 2023/24 Customer Marketing Technology Landscape) may just be the solution you need. Customer reference platforms are designed to help you keep track of all of your customer… references. 🤯 These tools make it easier for customer marketers to maintain the reference library while serving them up to sales reps whenever they are needed.
And guess what? Many platforms often go the extra mile by using cool tech like AI to deliver key metrics and data. Some of them even integrate with CRM platforms like Salesforce. This may seem like a no-brainer but are you able to attribute reference usage to not only pipeline influence but also your advocacy program performance? It's very difficult to do without the right tools.
From streamlining reference requests to collaborating with the sales team, the platforms in this blog will help reshape your complex customer marketing process. So don't make it complicated. 😎
Now, let's dive into these 4 exciting platform options.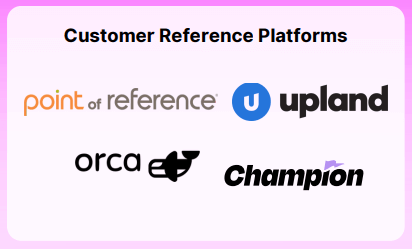 These platforms are presented in no particular order. ⬇️
Point of Reference
ReferenceEdge by Point of Reference is your go-to platform for simplifying customer referrals. Their solution lives on Salesforce and acts as your personal customer reference organizer. It not only helps you maintain your references, but it can also measure advocacy program performance. Explore more on the ReferenceEdge G2 page.
G2 score: 4.0 out of 5 stars
Upland
Among the many great offerings from Upland, Rant & Rave is their dynamic customer reference solution. It integrates easily into your buyer's journey and captures valuable customer insights you might otherwise miss. Customer marketers can gain tons of data that shape their future marketing strategies. For more on their platform, check them out on G2.
G2 score: 5.0 out of 5 stars
Orca
Orca is a Salesforce-native application that simplifies the process of gathering customer reference data. It equips customer marketers with diverse engagement avenues, keeping advocates intrigued through incentives for active participation. And with a number of popular platform integrations, you can hit the ground running. Discover more about this solution over on their G2.
G2 score: 5.0 out of 5 stars
Champion
Dedicated to unlocking dormant revenue, Champion leverages AI to identify your hidden advocates within your customer base. With that data, the platform then helps you activate them to drive true business growth. Pop over to their website to learn more about their unique offering.
Final Thoughts
When you've got the right customer reference management platform in your corner, you'll never worry about missing out on sharing a great success story. Plus, thanks to new tech like AI and automation, both marketing pros and sales reps can enjoy a much easier way to handle customer feedback. By hopping onto one of these platforms, you can have your feedback automatically sorted, so you're always prepared. 🤝
Enjoy learning about these innovative martech solutions? Then you'd love our full Customer Marketing Technology Landscape. Inside, we have 12 categories with over 80 of the best martech vendors for 2023. Have fun exploring. 🧭