To truly connect with your target audience, it's mission-critical to diversify your marketing content across different channels. We're talking: written materials, digital content to share on social media, interactive quizzes and surveys, and especially easily consumable and fun content like videos. Each potential client has their own taste, so keeping your marketing diverse will help you stand out. 👋
And speaking of videos… they can be super engaging and authentic, especially when it comes to customer testimonials. Back in the day (like a few years ago), they were expensive and required all sorts of gear. But in 2023, video marketing doesn't require a full production staff to pull off.
The question is, which technology is best suited for your video testimonial needs? Below, we're checking out 11 of the top video testimonial platforms. Let's get to it.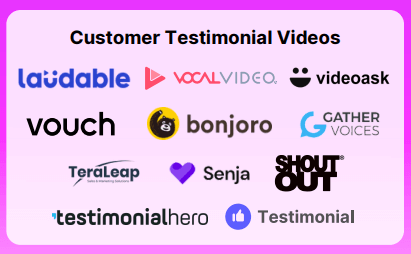 These platforms are presented in no particular order. ⬇️
Laudable
Laudable takes customer testimonials and success stories to a whole new level with awesome videos that sales and marketing teams can rely on. Their 4k quality footage and smart automation identify the right moments to capture customers' experiences, giving you the perfect video testimonials to boost conversions and drive meaningful conversations. Check out their G2 to learn more.
G2 score: 5.0 out of 5 stars
Vocal Video
Trusted by big names like Google, Wayfair, and Pfizer, Vocal Video lets any business effortlessly collect, edit, publish, and host professional video testimonials on their website and social media. No hassle, no stress! Just send customers a link, and they can create testimonials on their own time while Vocal Video's software works its magic on the editing. Head over to their resources library and see what you can create with Vocal Video!
VideoAsk
VideoAsk is the go-to place for creating engaging and interactive video conversations. Whether you want to gather feedback, host virtual Q&A sessions, or simply create great video testimonials, VideoAsk has you covered. Say goodbye to traditional surveys and hello to a more dynamic and exciting way of communicating. Check them out on G2 for more information.
G2 score: 4.5 out of 5 stars
Vouch
Vouch has made collecting customer video testimonials a total breeze! With just one link, marketers can ask customers questions, and guess what? The customers send back video responses with no hassle. Once you're done editing your video on Vouch, you can easily share it using a link, embed code, or integrate it with your favorite software. Want to know more about Vouch? Go visit them on G2!
G2 score: 4.9 out of 5 stars
Bonjoro
With Bonjoro, you can send awesome testimonial videos to potential and existing customers on your behalf—right to their email. It's the perfect way to showcase your business's personality and connect with clients on a human level. Bonjoro's human touch helps set it apart from other customer testimonial video platforms. Curious about what customers are saying? Go check out their G2 profile!
G2 score: 4.8 out of 5 stars
Gather Voices
Have you ever wanted to capture and amplify the voices of your community? Look no further than Gather Voices! Their platform empowers you to easily collect, edit, and share authentic video testimonials and feedback from your audience. This makes it simple to create compelling content that sticks. For more information, check out their website.
TeraLeap
With TeraLeap, you can use customer stories in video testimonials to boost engagement, drive sales, and build trust like never before. Their video testimonials add that extra authenticity and trust that'll make your brand stand out. Want to see how it works? Check out TeraLeap's customer stories.
Senja
Senja makes video testimonials easier. With their platform, you can collect twice as many video and text testimonials as the competition. If you're looking to wake up to an inbox full of new testimonial alerts, Senja might be the best option for you. For more information, check them out on G2.
G2 score: 5.0 out of 5 stars
ShoutOut
ShoutOut is the way to go if you want to scale up your customer testimonial videos easily. They offer automated video production and easy sharing, making it simple for marketers to create compelling testimonials with custom branding. They even do captions! Plus, each video testimonial is crowdsourced, meaning your customers themselves record and send back their videos. Want to know more? Check out the reviews on ShoutOut's G2 profile.
G2 score: 5.0 out of 5 stars
Testimonial Hero
Want to win over customers and build trust in your brand? Testimonial Hero is a great option to consider. Their expert team crafts authentic video testimonials that showcase your happy customers, helping you connect with your audience and boost your credibility. For more info on Testimonial Hero, visit their G2.
G2 score: 4.9 out of 5 stars
Testimonial
Testimonial is a great platform to give your brand credibility a boost. This user-friendly platform empowers marketers and entrepreneurs to gather, manage, and showcase authentic customer testimonials easily. Read Testimonial's reviews on G2!
G2 score: 4.5 out of 5 stars
Final Thoughts
When you show real customer experiences with your business, potential buyers get a glimpse of your current customers' loyalty. It's like a signal that your brand is trustworthy. And you know what's even better? Existing customers feel valued and heard when they provide those awesome testimonials. Win-win! 🏆
If you're curious to learn about other types of customer martech, we've got you covered. Check out our Customer Marketing Technology Landscape for 2023. You'll find 12 categories of customer marketing tech along with over 80+ vendors. It's a goldmine of marketing goodness, so don't miss it. 🌟