For customer marketers, harnessing the power of your community and customer enthusiasm is key. When customer-centric companies are 60% more profitable than companies that aren't, building a customer-centric community is becoming more of a must-have than a nice-to-have. One of the best ways to empower and build your customer base is through community software solutions designed specifically to help you strengthen community, loyalty, and referrals.
Building a community allows your customers to connect with one another through your brand. Community software allows you to foster this connection, with customers assisting one another and referring others to create a loyal, engaged customer base. Discover some of the largest and most influential community software platforms available below: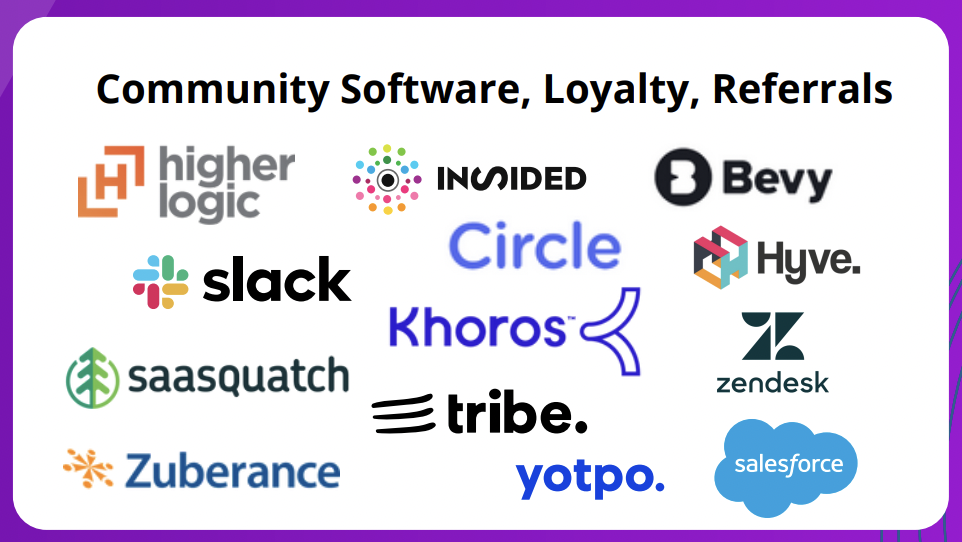 Higher Logic
Higher Logic is a software platform designed to help you build a community that allows your customers to connect not only with your brand, but with each other. Depending on your solution, Higher Logic can help you accomplish everything from managing member payment structures to sourcing user-generated support content. The structure of Higher Logic's offerings makes it easy to engage your customers, boosting loyalty and trust among your audience. Discover more about Higher Logic on G2.
G2 Score: 4.5 out of 5 stars
Slack
If your company uses an internal messaging system, then the chances you've heard of Slack are pretty high. Designed to connect employees virtually, no matter where they are, Slack allows team members to instantly message one another. With integrations into a long and growing list of tools your team uses every day, Slack can instantly improve team alignment. Not only does Slack streamline communications internally, but your company can use extensions to connect with clients on Slack outside of your organization. See why users love Slack's communication improvements on G2.
G2 Score: 4.5 out of 5 stars
inSided
inSided offers the only SaaS-specific customer success community platform. Combining an online community with a user-generated self-service knowledge base, inSided's platform increases customer engagement and satisfaction. With a 50% reduction of incoming questions, your customer success team can spend more time focusing on high-value contributions to the business. Learn why users love inSided on G2. 
G2 Score: 4.5 out of 5 stars
Bevy
When it comes to community events, Bevy offers a software platform with all the tools you need to plan, promote, and host the event of your dreams. Enterprise-level analytics allow you to understand your customer on a deeper level, letting you build an effective C2C community. Whether planning in-person or virtual events, Bevy lets you turn your brand champions into community organizers. Dive into Bevy's incredible community events platform on G2.
G2 Score: 5 out of 5 stars
Circle
Circle's unique tools allow you to combine the power of community with your content seamlessly. Through video content, Circle allows you and your users to create live streams, chat rooms, event spaces, discussion boards, and more for a unique blend of content and community. Perfect for brands, coaching communities, membership groups, and more, Circle will help you build the community experience you want for your customers. Uncover all of Circle's incredible features here. 
Khoros
An award-winning, omnichannel customer engagement platform, Khoros allows you to create more valuable digital experiences for your consumers. With easier social campaign management, it's easier than ever to create community and pull in more consumers to your brand. With the millions of customer conversations happening across your communication channels, Khoros can help you gain immediate feedback and insights to utilize in your marketing campaigns. Learn more about Khoros on G2.
G2 Score: 4 out of 5 stars
Hyve
With Hyve, you can automate your customer marketing function. Simple elements such as referrals, references, reviews, and more are all easy to harness and create with the help of Hyve, allowing you to turn customers into brand advocates. Hyve encourages customers to leave reviews, improving your brand reputation and strengthening customer advocacy. Start harnessing the power of your customers' review with Hyve.
SaaSquatch
SaaSquatch is a loyalty and referral software for SaaS tech companies. SaaSquatch integrates with your website or app, meeting customers where they're at. The software lets your customers refer others, earn rewards, run VIP programs, and much more. With this software, you can gain customers for 45% less than paid ads. SaaSquatch allows you to create a highly customizable brand experience, incentivizing customers to refer others with a reward system. Discover the benefits of SaaSquatch on G2.
G2 Score: 4.5 out of 5 stars
Tribe
Tribe allows you to scale content creation quickly, with SEO-friendly content that's optimized for social sharing. You can easily moderate your online community, keeping your members safe and defending your brand reputation. Tribe easily integrates with other third-party tools (like Slack) to blend into your tech stack seamlessly. Check out all the incredible perks of Tribe on G2.
G2 Score: 4.5 out of 5 stars
Zendesk
Zendesk provides a simple yet effective software for customer support. With Zendesk's cross-channel support, it's never been easier for your customer success team to provide the support your audience needs. Zendesk integrates with your most used apps, such as Slack, JIRA, Shopify, and more, for simplicity and ease of use. As a service-first CRM, Zendesk is designed to build stronger relationships with your customers. Dive into Zendesk's revolutionary technology on G2.
G2 Score: 4.5 out of 5 stars
Salesforce
As one of the leading CRM platforms, Salesforce has become a household name. By automating tasks and helping with lead management, pipeline forecasts, and more, Salesforce frees up reps to respond to leads quicker. With data insights on customer interactions, you can create stronger, more targeted marketing campaigns to engage your buyers. Check out more ways Salesforce can help strengthen your customer engagement on G2. 
G2 Score: 4 out of 5 stars
Zuberance
Zuberance is a full-service word-of-mouth marketing company. Zuberance boosts your ratings on third-party sites with SEO-friendly reviews written by happy-customers-turned-advocates. With advocate analytics, answers, referrals, and more, Zuberance helps grow your business via word-of-mouth marketing. Uncover the power of Zuberance's word-of-mouth marketing on G2. 
G2 Score: 4.5 out of 5 stars
Yotpo
Yotpo focuses on eCommerce marketing, utilizing a connected data layer to provide insights. Your team can then use these insights to make data-driven decisions that boost engagement, sales, and customer value. Yotpo helps you reach customers where they are with SMS bumps, reviews, and visual UGC. Check out more about Yotpo's features on G2. 
G2 Score: 4.5 out of 5 stars
Final thoughts
Finding a community software solution to build your customer loyalty and referrals can strengthen your marketing efforts by turning happy customers into advocates for your brand. With these tools, existing customers empower others through user-generated customer support. And even new customers can grow to trust mature customers, creating a happy, engaged consumer base.
Dive into all the incredible tech powering customer marketing with over 60+ vendors in our Customer Marketing Technology Landscape, co-created with Captivate Collective.