Peer pressure isn't always a bad thing, right? When it comes to effective marketing, social proof can be the tipping point that turns a lead into a customer. Social proof is defined as evidence from previous or current customers that have found value in a product or service. For instance, buyers' reference reviews, recommendations, and testimonials are all examples of social proof.
By leveraging social proof in your marketing campaigns, you're establishing credibility and showcasing the real-life value of your product, service, and/or brand to persuade potential buyers to make a purchase. Dr. Robert Cialdini, American Psychologist and author of Influence: The Psychology of Persuasion, believes that social proof is one of the seven principles of persuasion. He states, "Social proof is most powerful for those who feel unfamiliar or unsure in a specific situation and who, consequently, must look outside themselves for evidence of how best to behave there."
Essentially, for buyers teetering on the fence about whether or not they should make a purchase or are internally debating which product is the right solution, social proof is critical. Let's dig into the various ways you can amplify your marketing campaigns with social proof.
1. Showcase social proof derived from customer success stories
Social proof is effective at persuading buyers to make a purchase because it confirms that the product positively helped or impacted another organization similar to their own. What better way to showcase this phenomenon than by creating customer success stories?
Customer success stories are the ultimate way to illustrate how a product benefits an organization. From real-life examples to statistics pointing to growth, these stories prove themselves that a product is worthwhile. In fact, nearly 80% of B2B buyers reference customer stories before making a purchasing decision. And this makes sense. Would you make a large-scale purchase without first reading reviews or getting opinions from your peers? Consider this. Would you buy a brand-new car for your family without reading the reviews on safety first? Probably not.
For example, the following is an account spotlight from Yellowbrick, a data warehouse. This customer success story is a synopsis of how ACI Worldwide, a software company, used Yellowbrick to increase productivity and scale. This story is chock-full of customer testimonials, impactful statistics, and other social proof points that paint the picture of the beneficial experience this company had with Yellowbrick.
Check out our Research Library to explore how UserEvidence users leverage our platform to create high-impact customer success stories to boost their marketing campaigns and garner more conversions.
2. Highlight customer testimonials on your website and other marketing materials
97% of B2B customers report that customer testimonials are the most reliable type of content. In fact, a UK study found that adding customer testimonials to your website increases conversion rates by 34%. Another study proved that adding customer testimonials to sites with expensive product or service offerings increases conversion rates by 380%. To better serve all of the buyers visiting your site, these snippets of social proof points should be collected from customers across all industries, company sizes, regions, and other demographics.
This is because, on a psychological level, people tend to follow suit after peers who have had similar experiences. Adding testimonials to your website (and other collateral) that address specific pain points and use cases can dramatically increase conversion rates and drive sales.
Consider the example below of a customer testimonial. Within this testimonial, the customer details how GitLab improves their team's collaboration and saves engineers time. Plus, the customer explains that they are a small startup. Thus, this testimonial would be great to share with other small startups. Imagine that!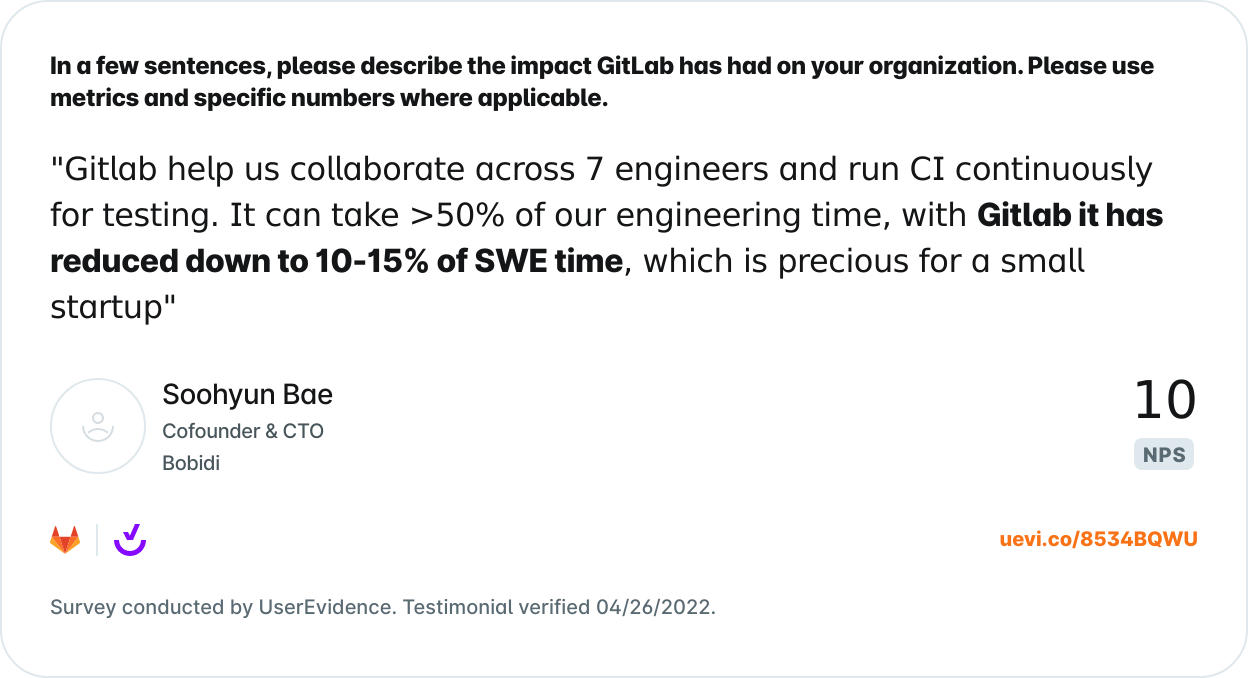 Dive into our blog, 4 Strategies for Acquiring & Sharing Customer Evidence, to uncover best practices to elicit social proof points from your top customers.
3. Leverage powerful statistics to maximize social proof across all content
It's one thing to harness the power of happy customers' opinions and use it to your advantage in your marketing initiatives. It's another thing to boost social proof with accurate statistics to support your customers' claims about your product. Using statistics based on customer feedback and input maximizes the effectiveness of social proof.
Let's take a look at an example. Cloudwords, a software company, used UserEvidence to collect data from their customers to spin out content they can share on social media. To do so, Cloudwords' marketing team sent out a survey to their customers asking how Cloudwords increased their ability to produce localized content. Based on the results, the marketing team was able to share this statistic across their social media platforms (see example below) as well as other marketing materials.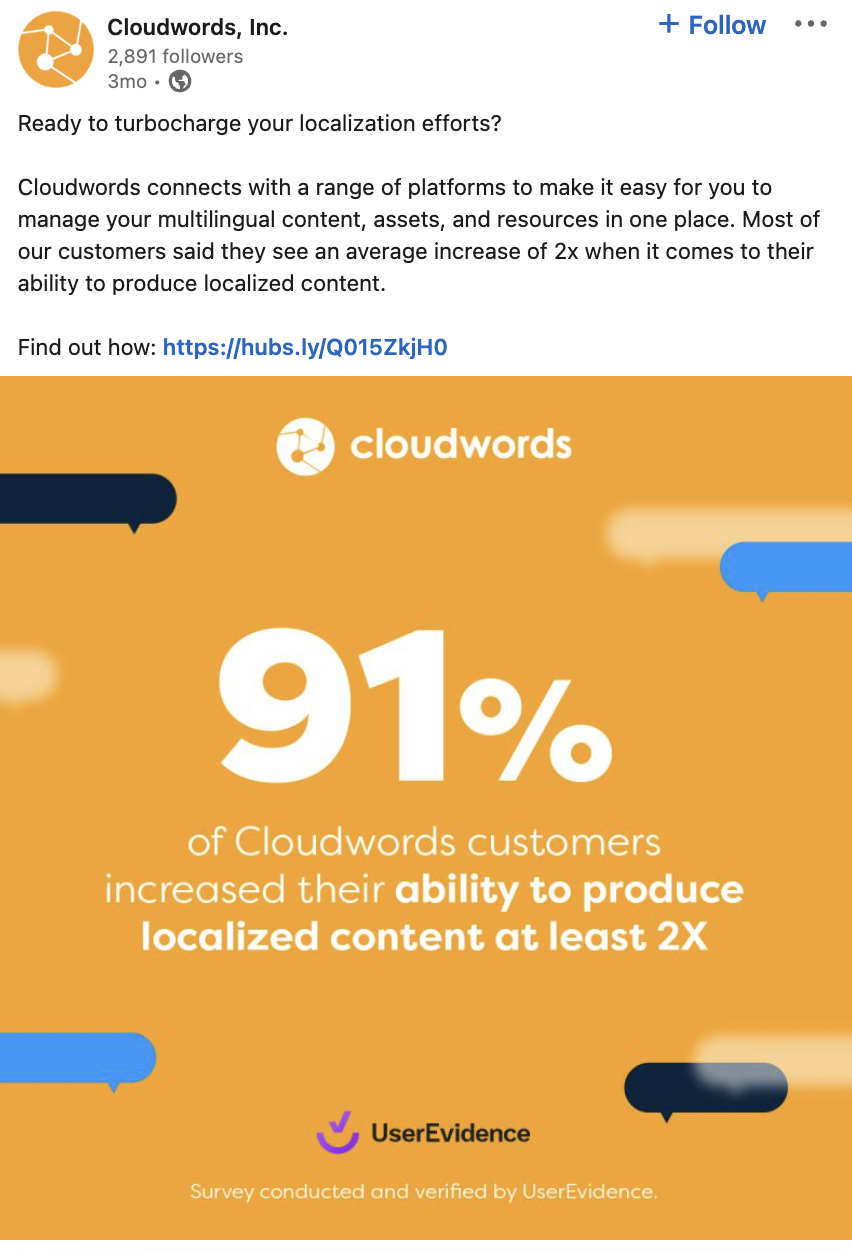 This stat encompasses social proof from a multitude of Cloudwords customers. As a result, this proof point confirms that a vast majority of Cloudwords customers gain the ability to produce localized content by at least 2x versus before implementing the software. If you were a buyer looking to increase the amount of content you could create, wouldn't this resonate with you?
Final thoughts
Social proof comes in various forms and can serve multiple use cases. However, the purpose of all types of social proof is to gain trust, credibility, and ultimately encourage buyers to make a purchase. The examples we covered above are just a few types of social proof — proven to increase conversions by over 30%. That's some serious oomph!
At UserEvidence, we can help you gather and leverage social proof in your marketing campaigns. After all, it's kind of "our thing."
Get in touch with us to get the ball rolling!