Customer marketing is all the rage these days (#3 fastest growing job in the US, according to LinkedIn) and it's easy to understand why. Offering more than just case studies and testimonials, customer marketing empowers marketers to infuse the voice of the customer into their marketing campaigns and sales enablement content. Throughout the buyer's journey and even past the point of purchase, customer marketing leverages the voice of the customer to:
Better market new products
Retain current customers and increase customer loyalty
Keep new buyers engaged throughout the sales cycle
Turn customers into evangelists
However, as the customer marketing landscape expands, customer marketers are facing unprecedented challenges. Fortunately, these challenges are easy to overcome with the right technology and strategies supporting your initiatives. Let's dive into the top 4 customer marketing challenges and their solutions.
1. Customer story libraries have major gaps
Having a weak library of customer success stories with major gaps in representation inhibits customer marketers from providing relevant content to buyers. For example, say a buyer is a CISO at a mid-size cybersecurity organization in South America. To share relevant information with this buyer, you would need to have a diverse library of customer proof points based on industry, company size, regions, and personas. Not to mention, the time it would take to curate all of these pieces of content would be astronomical.
Luckily, there is a solution. With the right customer marketing technology, you can create a complete library of customer evidence and success stories across all industries, company sizes, personas, and use cases at scale. Software like UserEvidence enables you to automatically collect customer success stories at opportune moments in their customer journey. From here, you can review responses and share customer success stories in your marketing campaigns.
Take a look at GitLab's customer marketing resources below — all content was generated with UserEvidence. You'll see that there is a multitude of customer marketing content that not only comes in various formats, but covers different personas, company sizes, use cases, and more. To get a bird's-eye view of GitLab's customer marketing content, visit their Research Library.
Industry-specific content: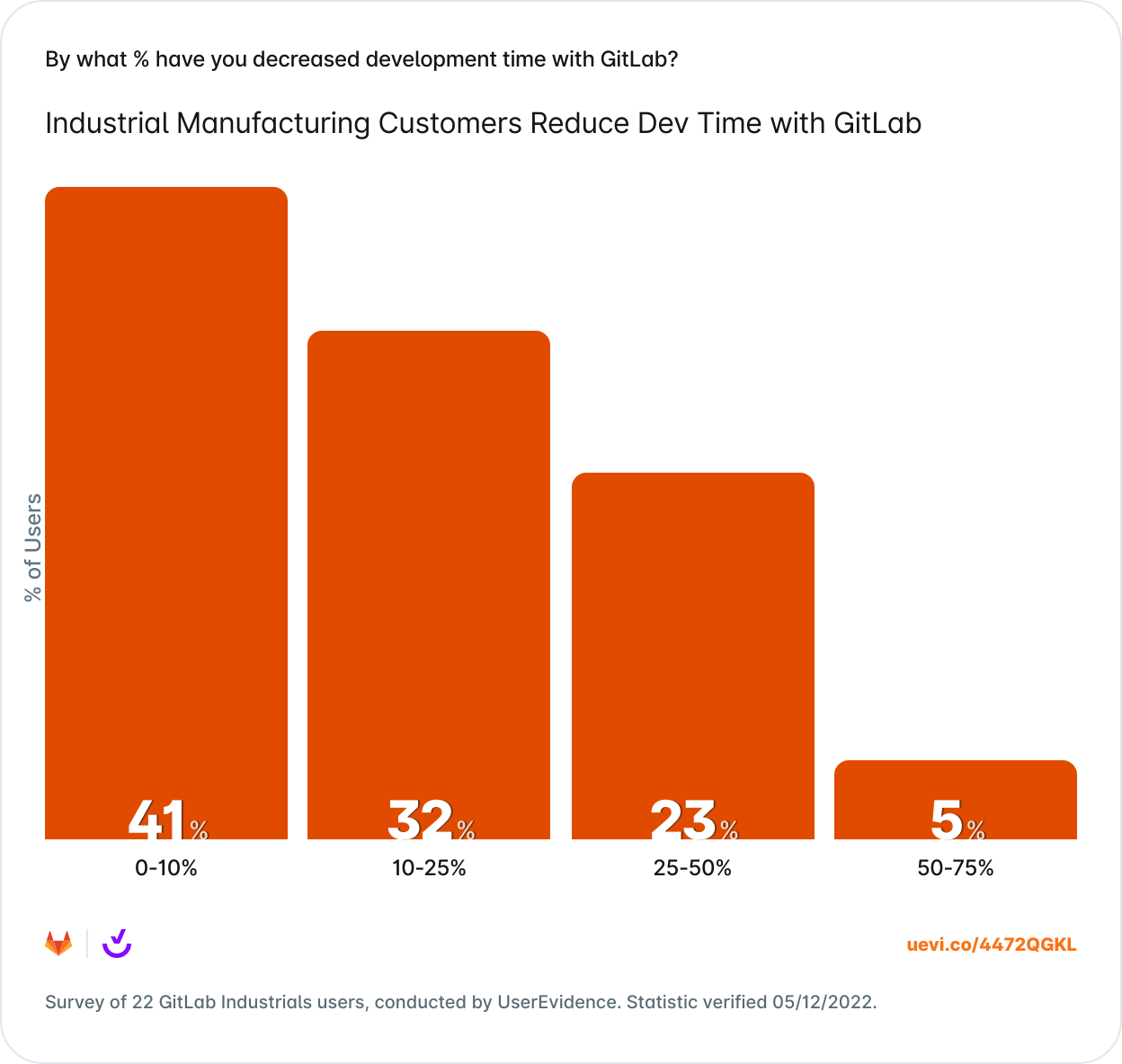 Company Size-Specific Content:
Persona-specific content: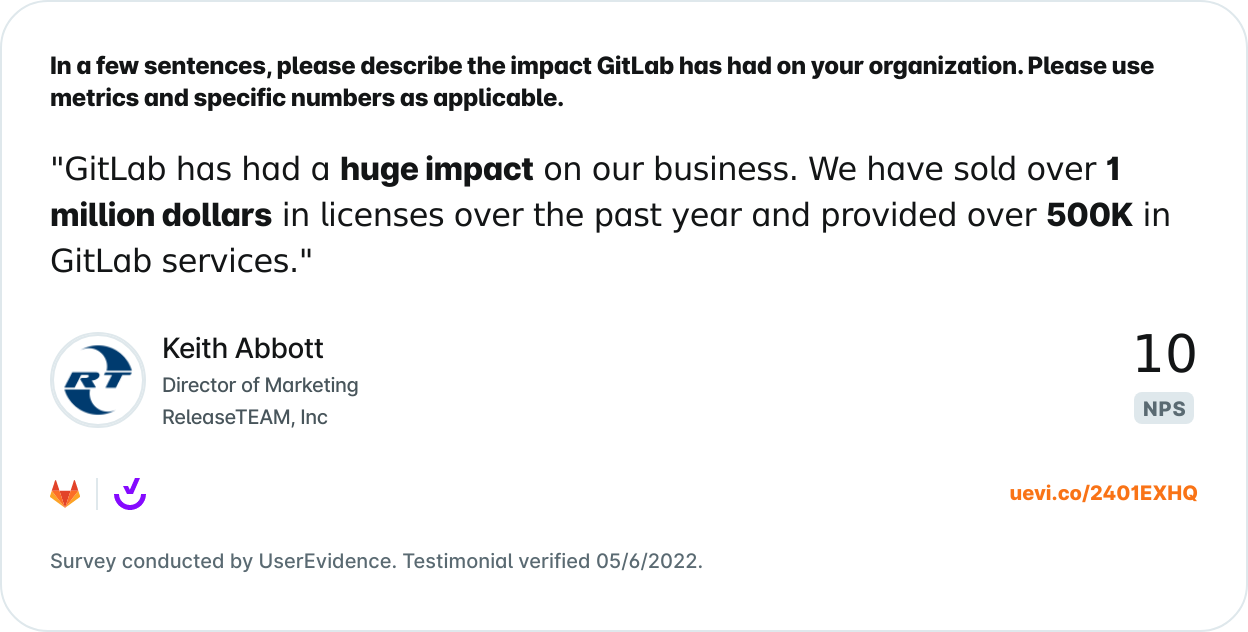 2. Legal and PR roadblocks prevent marketers from sharing killer success stories
Marketers spend hours, even weeks (sometimes months!) working with a happy customer to develop a customer success story that can be shared on the website, in marketing campaigns, and during sales meetings. Honestly, this work is time-consuming and tedious. Now imagine all that hard work goes *poof* right down the drain because the customer's legal and PR team don't agree to go on the record and share their story publicly. This is an all too common and frustrating fact of life as a customer marketer.
The solution is to meet the customer where they are comfortable.  If they are willing to be named, great, but don't throw away all of your efforts if they aren't.  Enable customers to share in a blinded or anonymous way. This way, you are empowered with an arsenal of high-impact customer success insights and the customer's company is safe from any potential legal or PR blockers. So how can you do this without adding the strain of time-consuming tasks to your plate? You guessed it… technology.
With the right technology, you can canvas hundreds — even thousands — of customers at scale with surveys that give them the option to remain anonymous. Not only can this provide you with the opportunity to generate anonymous case studies, but you can also merge insights from multiple sources to make impactful data generalizations. For example, Wrike was able to derive the statistic that Wrike customers experience an average of 47.63% increase in productivity (example below).

3. It's difficult to quantify the value and ROI of the product
Many customer marketers have trouble quantifying the value and ROI their product or service is delivering for customers. This is often due to a lack of statistics and insights. Being able to showcase the value and/or ROI of a product is key to establishing credibility and moving buyers along their buyer's journey. Without quantifying the ROI, it will be difficult to convince buyers to make a purchase.
What's needed is the ability to garner real statistical evidence to prove ROI. With customer marketing technology, you can garner these insights easily and quickly to then spin out high-quality and impactful marketing and sales enablement content. For instance, UserEvidence users are enabled to collect feedback from hundreds (or even thousands) of happy customers by sending out a single link to a survey. Upon receiving feedback, users are able to generate a robust picture of account health and ROI at moments of renewal or upselling opportunities.
Take a look at the example below of how Wrike was able to capture data from their happiest customers regarding their ROI. This proof point can be implemented in any type of marketing or sales content — from social media posts to 1-pagers.

4. Setting time aside to meet with customers to hear their story is challenging
Another major customer marketing challenge is the amount of time it takes to chase down customers to create case studies. Often, it will take hours for customer marketers to find a customer willing to tell their story. Once they do find a customer who would like to share their story, it takes more than double the amount of time to create content for various uses. And due to bandwidth, it's common for only a few pieces of content to come out of this effort.
With the right tools, you're empowered to send out one survey to thousands of customers to get segmented insights and data. This sliced-and-diced data makes it easy to create content that spans industries, company sizes, personas, and other demographics — all through easy-to-leverage surveys.
With all of this content derived from impactful data, you're able to build a content library that mitigates all of those repetitive requests from sales we're used to. Sales reps are now able to quickly find and identify the content they need to share with buyers based on relevancy. Now, you have more time to focus on more strategic customer engagements such as long-form case studies, events, customer advisory boards, and more.
Final thoughts
Customer marketing is essential to establishing credibility and providing your buyers (new and existing) with the insights and information they need to feel confident in their purchase decision.
With the right customer marketing technology, you're enabled to:
Reduce time spent chasing customers for success stories
Build a robust library of easily accessible customer evidence
Quantify the ROI and value of your product or service
Avoid issues with legal and PR teams
Want to see a killer customer marketing platform in action? Book a demo with UserEvidence.