It was only a matter of time before the B2C/consumer buying behavior leaked into B2B/enterprise buying (after all—it's the same humans). As consumers, we do a lot of research online before buying a TV or choosing a restaurant, and a huge influence in that research process is peer reviews (e.g. on Amazon, Etsy, Yelp, TripAdvisor, etc.).
In B2B, social proof and peer endorsement are equally important. There were a few niche review sites around in 2010, but nothing of a larger scale. As buyers moved more of their buying process online, several larger review sites have popped up in the last decade to meet that need.
Each review site has a bit of a specialty/focus on audience and types of businesses covered. For instance, Gartner Peer Insights tends more toward the IT/data center/enterprise buyer, whereas G2 focuses more broadly on business software (e.g. marketing/sales tools, HR software, accounting software, etc.).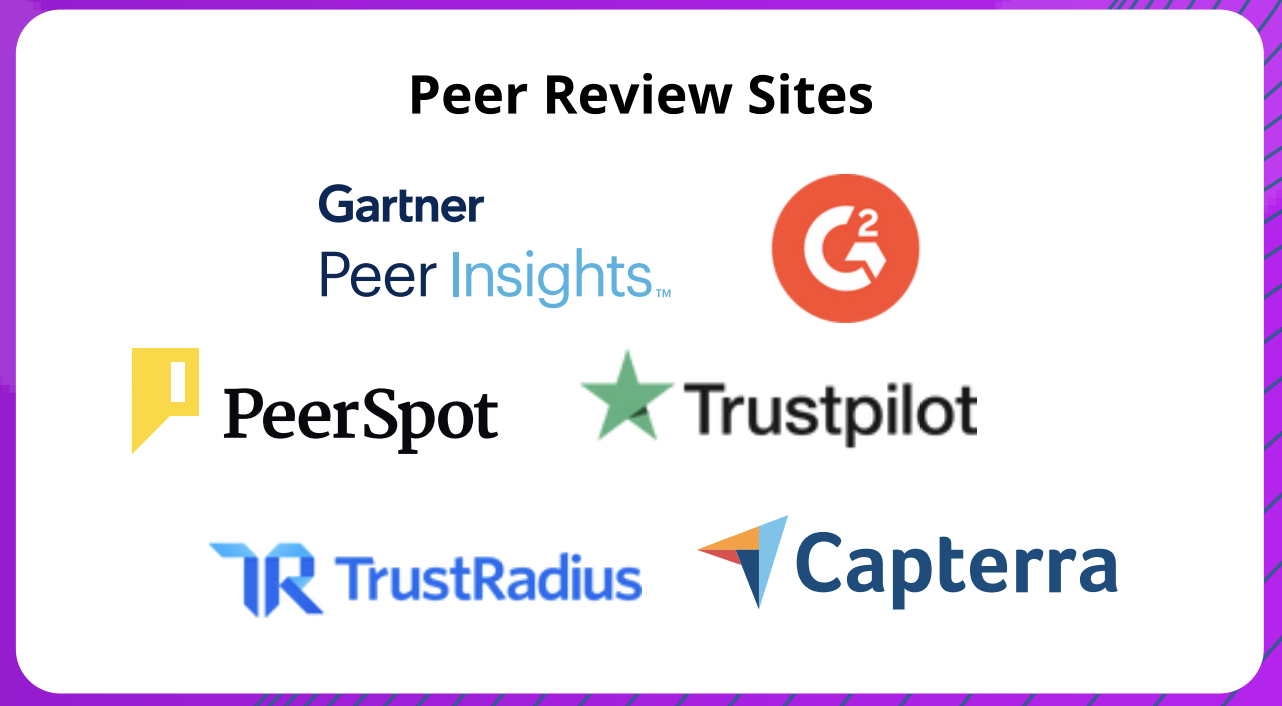 Gartner Peer Insights
Gartner Peer Insights provides buyers with reviews they can trust for the solutions they need. These reviews are reliable and submitted by real users, with Gartner Peer Insights even recognizing top customer-rated companies! With trending categories that are continuously updated and new categories always being added, this platform makes it easy for users to find what they're looking for. To learn more about Gartner Peer Insights, check out their G2 profile.
G2 Score: 4.7 out of 5 stars
G2
G2 helps users and businesses alike with their comprehensive peer review site. With 1,833,600 reviews and counting, it's no wonder why over 5 million monthly buyers use their platform! With trending categories like eCommerce platforms, project management, marketing automation, and more, your business will be putting its best foot forward by garnering accurate customer reviews on G2 that will sway buyers in your direction. By claiming your business's profile on the peer review site, you can make sure you're visible to buyers and displaying your best customer reviews. Check out their profile for more information.
G2 Score: 4.7 out of 5 stars
PeerSpot
PeerSpot ensures that buyers read real reviews written by real users, rather than fake reviews or spam. With a unique comparison feature, PeerSpot allows users to compare two solutions, head-to-head. With over 80,000 comparisons, including reviews, buyer's guides, and more, users can narrow down their choices and navigate their buyer's journey based on their specific wants and needs. This level of detail allows customers to find the perfect solution to their problem. Learn more about PeerSpot on their website.
TrustPilot
TrustPilot enables businesses to get the most out of their customer reviews by providing real-time insights. This customer review site collects reviews at key moments in a customer's journey and allows organizations to show these reviews off in places they usually engage with buyers (your website, social media, collateral, etc.). With reliable reviews, potential buyers' purchasing decisions are made easy and businesses can increase conversions and customer retention. To learn more, check out TrustPilot on G2.
G2 Score: 3.8 out of 5 stars
TrustRadius
With 422,000 reviews and ratings from verified users, TrustRadius aims to be a one-stop shop for trustworthy and reliable software reviews. TrustRadius has verified every reviewer and vetted each review since their first day, making trust and accuracy their top priority. The peer review site touts that they have no ads and no bias, as they have no paid placements on their site and refrain from selling leads to prevent vendors from skewing results. With the core values of reliability and quality, TrustRadius delivers users exactly what they came for: peer reviews. Learn more by checking out TrustRadius on G2.
G2 Score: 3.5 out of 5 stars
Final thoughts
When considering peer review sites, the most important things to look out for are credibility, reliability, and trustworthiness. With verified reviews left by real users, your organization can build trust with potential buyers in no time. These peer review sites also offer customers' real experiences with your product/service, allowing buyers to connect to your enterprise through use cases like their own. Word of mouth is a powerful thing, so why not use it to your organization's advantage?
Check out our full Customer Marketing Technology Landscape, co-created with Captivate Collective, to learn how the right technology can change your customer marketing strategy!