With the right tools and customer marketing technology at your disposal, you can unlock the true power of customer marketing.
The UserEvidence team, along with Captivate Collective, has compiled a list of trusted companies to help you up your customer marketing game in 2023 and beyond. From advocacy to customer growth, and even community building—our technology landscape will reveal the influential platforms that will help you future-proof your customer marketing strategies.
In addition to last year's 9 categories, we've added 3 new categories for 2023:
Competitive Intelligence
Customer Success / Experience Software
Full-stack Customer Marketing Automation Platforms
These additions bring even more depth to our tech landscape, allowing us to recognize and celebrate excellence in areas of the marketing industry. By reviewing, implementing, and leveraging these innovative solutions, you'll be equipped to drive impactful customer advocacy, foster sustainable growth, and cultivate a thriving community around your brand.
In upcoming blogs, we'll narrow in on each section and take a deeper dive into how the vendors stack up against each other within their own category. We'll also be including their G2 reviews, so you can quickly compare and contrast to make the best decision for your company. ✅
Download the customer marketing technology landscape
In our comprehensive customer marketing technology landscape, you'll discover:
The 12 categories of customer marketing technology
80+ platforms to help bring you customer marketing success
A deeper understanding of which technologies would suit your needs
Plus, you'll be able to quickly access each platform by simply clicking their logo and head straight to their website. Some vendors cover a lot of ground with their solutions and could show up in multiple categories. But we elected to keep them in a single category to help you understand what their primary solution solves.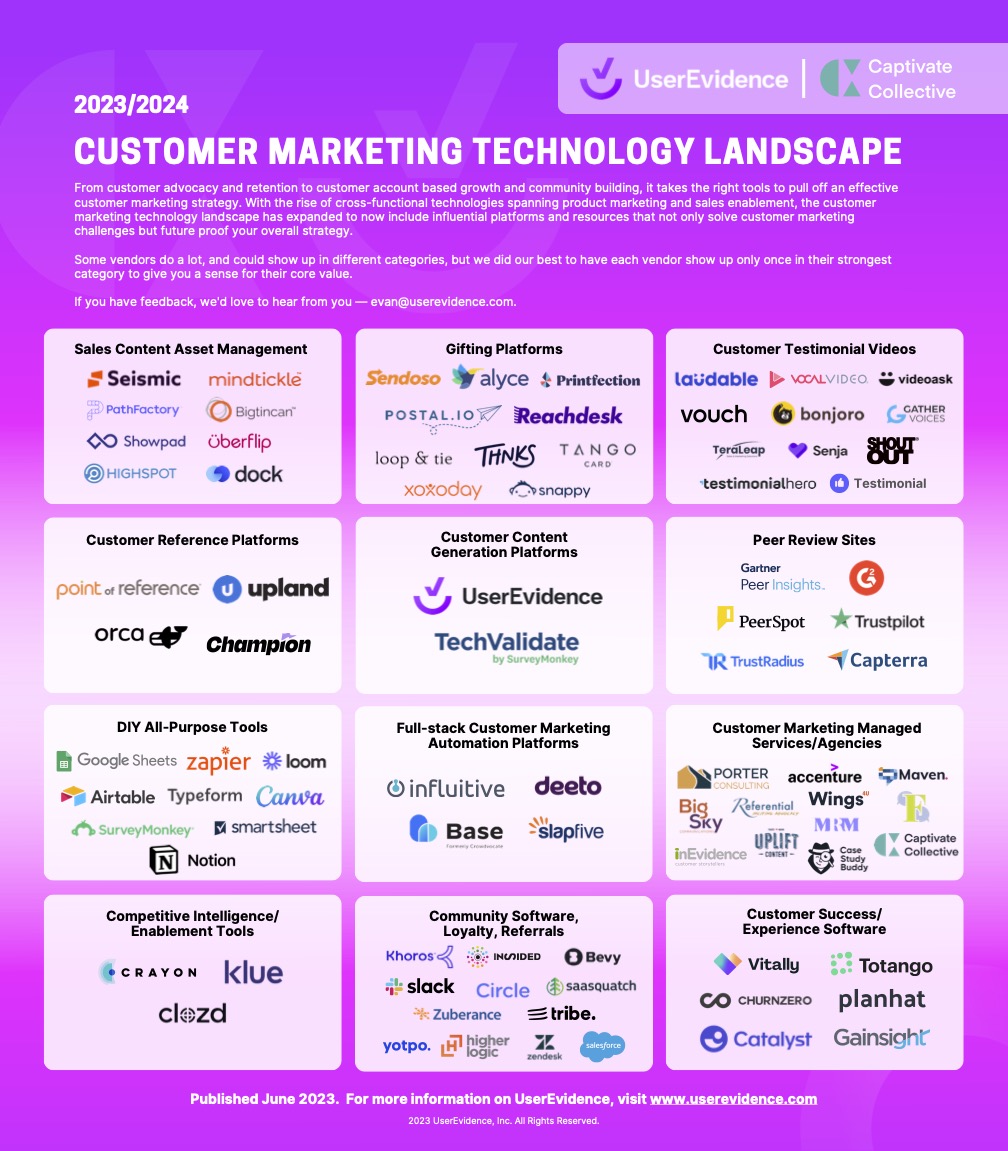 Download your copy of our customer marketing technology landscape below. ​​⬇️

Final thoughts
The release of our 2023/24 customer marketing technology landscape will leave you equipped with the tools and insights to unlock the true potential of customer marketing. Have fun exploring the 80+ companies featured—and don't forget—our upcoming blogs will help you understand the importance of each category and compare each platform to see if they are a right fit for you.
For more information on UserEvidence and how we can help your company in customer content generation, book your free demo.