Do you find yourself spending too much time trying to find and chase down customers willing to share their customer success story?
Without the right tools, collecting and compiling customer success evidence is time-consuming and tedious. If you're experiencing these challenges, your customer advocacy pool is likely small and insufficient. To create a larger audience of customer advocates, you need a proactive and easy way to garner and identify volunteers willing to share their success stories.
Introducing the newest update to the UserEvidence Platform: Customer Advocates.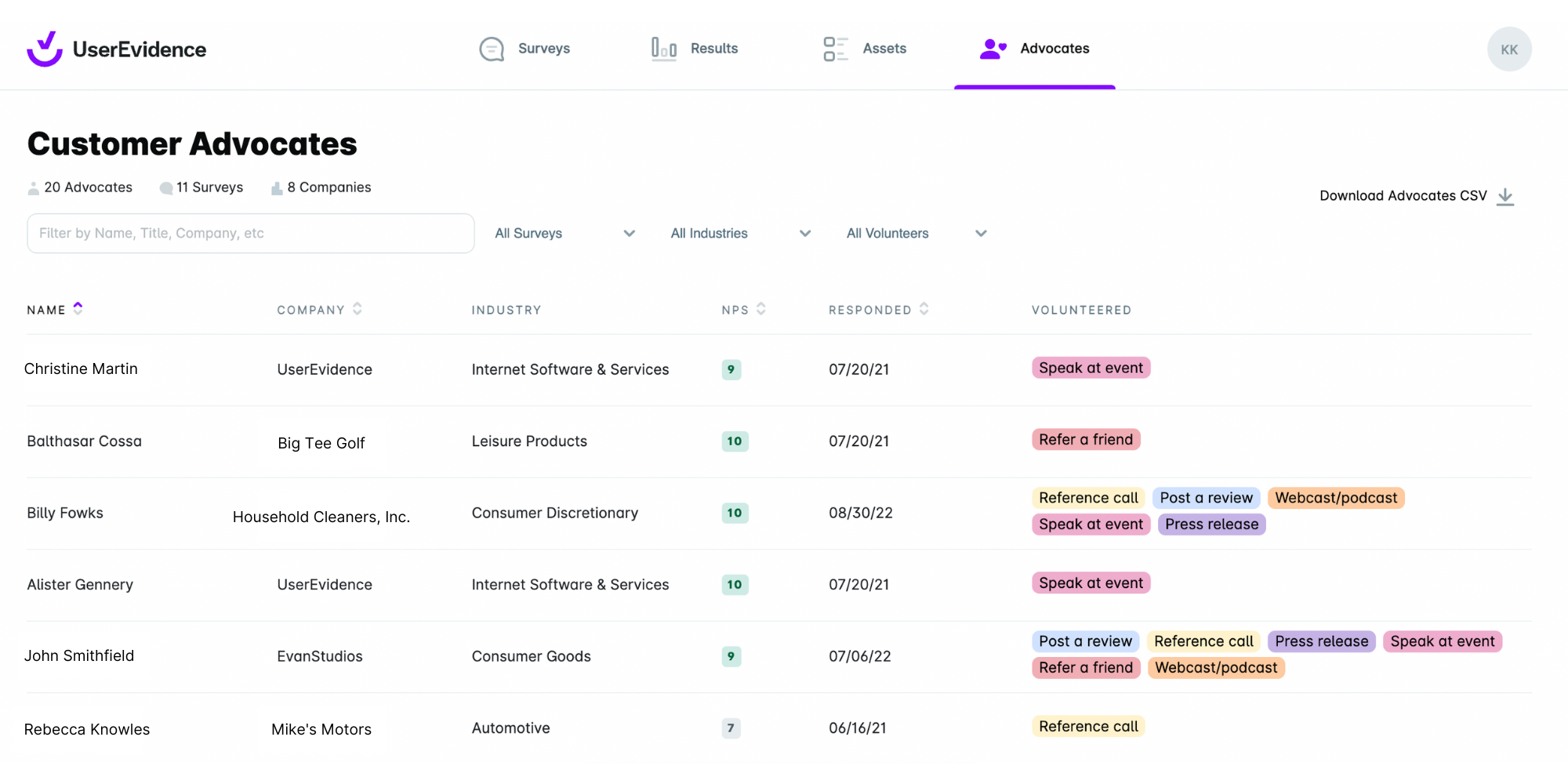 Automatically source happy customer advocates and determine levels of reference activity

UserEvidence's Customer Advocates feature allows you to identify advocates who raised their hand to take sales reference calls, record video testimonials, refer a colleague, and more.
Here's How it Works:
At the very end of each UserEvidence questionnaire, customers are asked if they'd be willing to participate in any other advocacy activity in a multiple choice, choose-many question.
For anyone who raises their hand, they'll get funneled into the Customer Advocates tab in the UserEvidence Platform. In this tab, you can see a list of all the customers willing to share their story. From here, you can easily filter customers based on surveys taken, industry, and reference activity type.
The example below demonstrates how to filter your customer advocates list based on reference activity type. This particular example shows us filtering to find advocates willing to participate in a webcast made simple.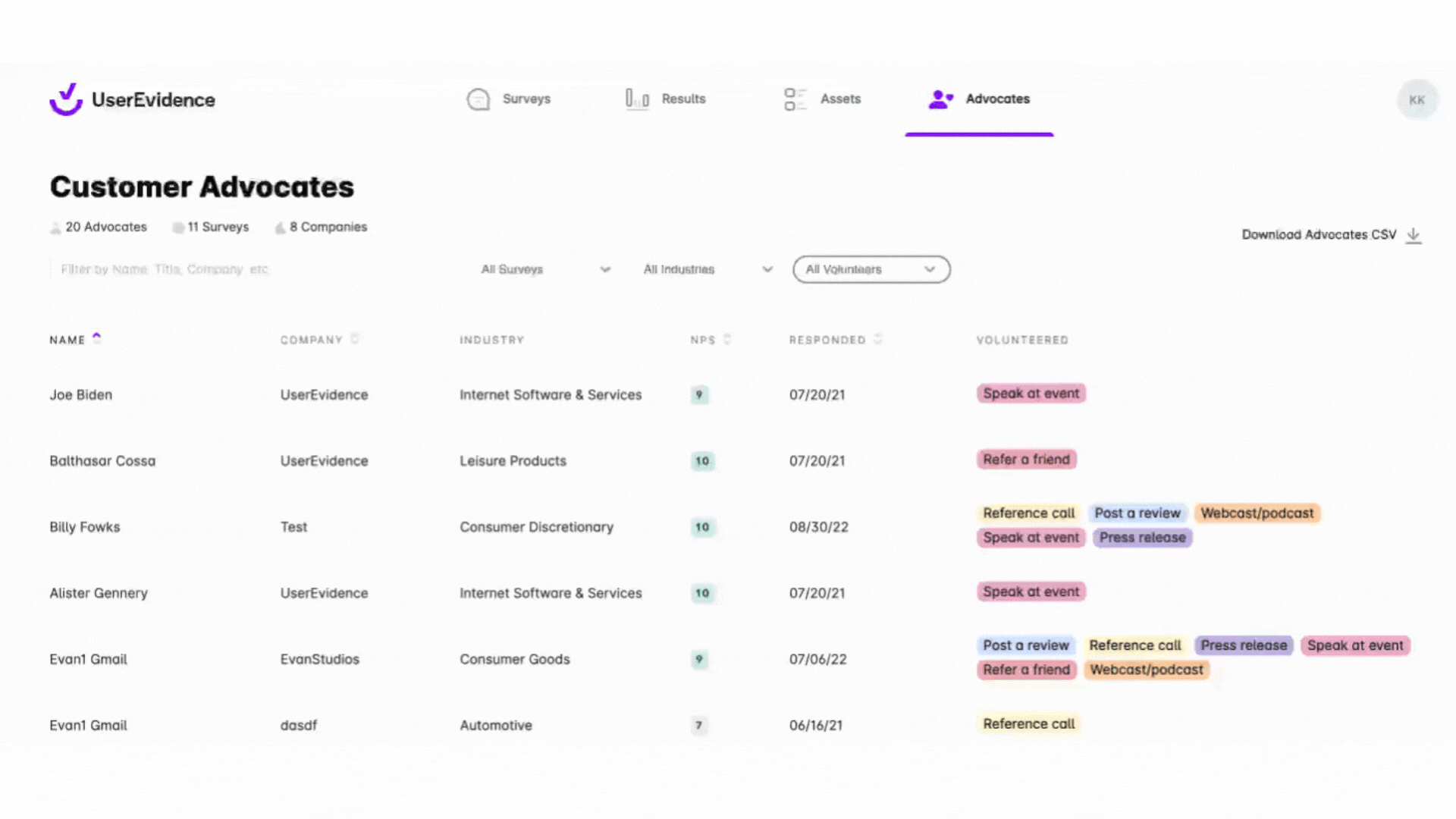 What you'll get from the customer advocates view
Find your advocates hassle-free
You're empowered to automatically source happy customers who are willing to be a reference. Plus, you can determine the levels of reference activity they would agree to (call, case study, video interview, etc.) at a glance.
Grow your pool of candidates
Marketing, sales, and customer success teams often overuse a small pool of reference customers. Our Customer Advocates feature allows you to increase your pool of candidates to tap for different advocacy needs.
Get new reviews from new champions
Take a "two birds one stone" approach with UserEvidence. With our SaaS platform, you can collect customer sentiments while also identifying advocates to amplify your brand.
21% of people will lose trust in a brand, whether they've been a customer or not, because of bad word-of-mouth. Show how much your champions speak highly of you.
Spot your secret admirers
The Customer Advocates view helps you identify enterprise customers that may not be able to go on the record, but opted in to do a longer case study and share their story anonymously.
Meet the Loyalists giving you repeat support
Did you know 90% of people are much more likely to trust a recommended brand, even if the recommendation is from strangers?
With our Customer Advocates feature, you can capture happy customers to retarget for further advocacy activity, like leaving a review on G2 or sharing a short video testimonial on Vocal Video.
Final thoughts
By using Customer Advocates to empower your biggest fans, you'll have a seamless way of finding your advocates and building your reputation. Capturing and sharing your customers' stories couldn't be simpler than with UserEvidence.
Save time looking for your customer advocates by booking your demo today.