Outdated, easily lost, and left to be forgotten…
This is exactly what happens to your customer testimonials when you house them in a random document or spreadsheet. If this resonates with you, it's time to augment your customer marketing collateral management.
Bring all your scattered testimonials and customer quotes to one place with the help of our latest update to the UserEvidence Platform: Testimonial Importing.

Now,  you can import quotes right into UserEvidence to curate one library of powerful stories that are easily searchable for sellers in a buyer interaction and shareable to socialize on social media, share in email campaigns, and leverage across all types of collateral.

Save time and get organized with bulk testimonial importing
With bulk testimonial importing, you can move over all your testimonials from those pesky spreadsheets directly into the UserEvidence Platform in just a few clicks. The best part? You can import testimonials from various sources like NPS results and G2 reviews directly into your asset library too! All of your imported testimonials will then become tiled assets, cohesively designed to match your branding guidelines. (See example below. )

Fine tune your testimonials post-publishing
Have a killer testimonial that needs a little tweaking post-publishing? With our testimonial editor, you can make the necessary changes and alterations you need to a testimonial even after it's published. This will automatically update the associated content link and graphics.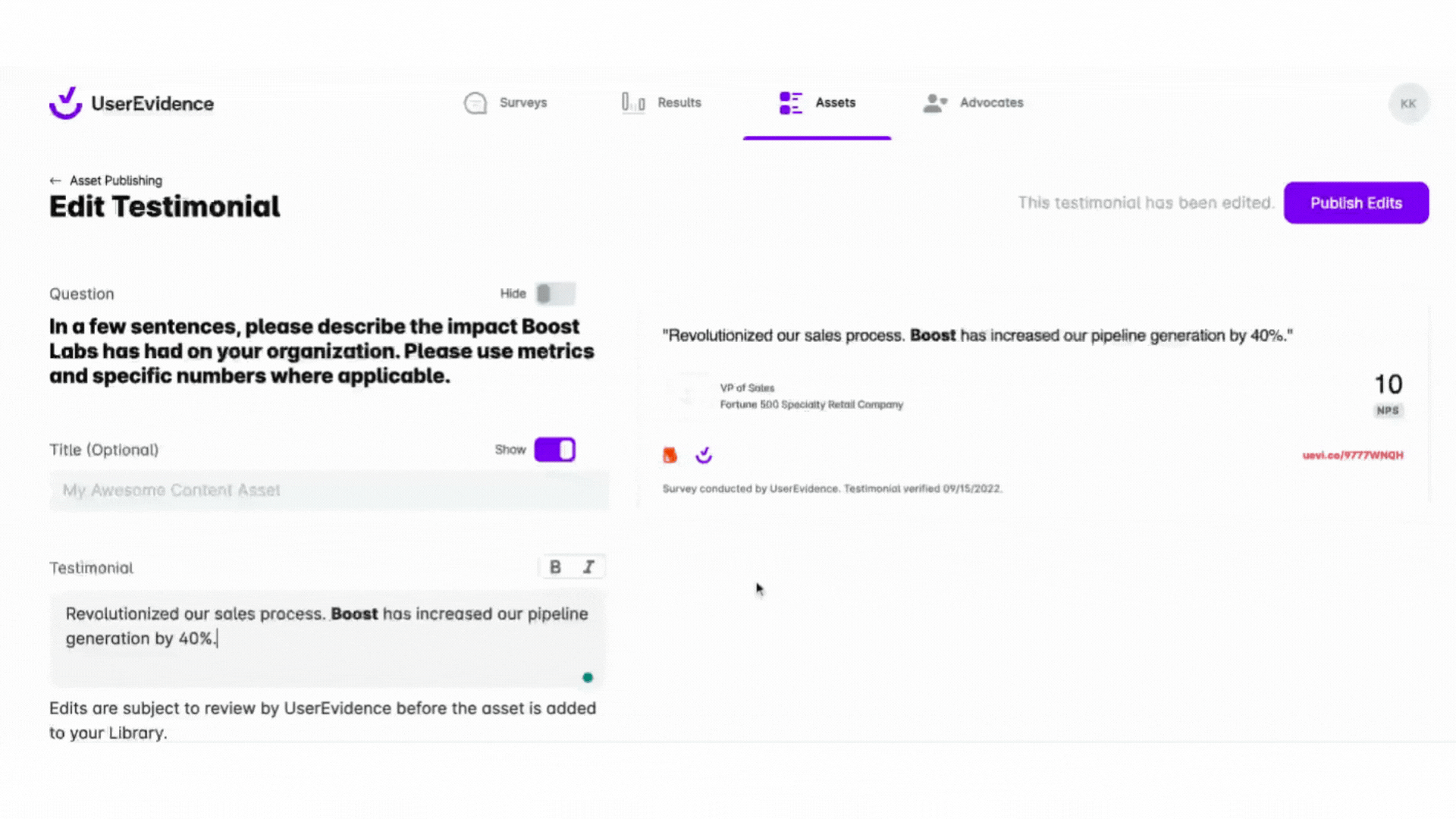 Whether it's uploading or editing, testimonial Importing is here to keep your quotes safe, accessible, and up-to-date.
What you'll get from testimonial importing
We get it—it's all too easy to find yourself down the Google Drive rabbit hole.
But with testimonial importing, you can consider yourself one of the few lucky souls who aren't spending up to 8 hours a day finding data! Is there anything better than having peace of mind knowing your testimonials are all in one place—available whenever you need them?

And if you bear in mind the fact that 94% of customers say a bad review has been a deciding factor in whether they avoid a particular brand, can you really afford to lose track of the very ammo capable of ensuring you rise above the competition?
Don't let those testimonials singing your praises get lost in the Drive. Give yourself a better way of managing your customer testimonials—all under one roof.
Final thoughts
By using testimonial importing to organize your customer testimonials, you spend less time finding the assets you need and more time strategizing around how to use them. It's all part of the UserEvidence Platform built on the premise that your customer evidence management should bolster your marketing strategies, not hinder them.
Never lose your customer testimonials again by booking your demo today.