Your first product update (with many more on the way)
Can't believe it took me this long to write my first blog for UserEvidence. Classic marketer slacking on the job – kidding.
Hopefully by now, you've noticed our new website with new positioning, messaging, brand design, and a whole lot more about what UserEvidence actually does. We're just getting started.
We'll keep sharing more product updates on this blog with how-to videos, screenshots, and anything else you need.
Our goal is to make sure every UserEvidence power user knows about new features and how to use them effectively.
Let's get it.
New product feature🚨: Cross-tabbing
Cross-tabbing is a powerful data analysis technique used in surveys to explore and understand the relationship between two variables.
By creating a cross-tabulation table, you can visually depict the frequency distribution of each variable. This helps you identify interesting patterns and trends within your data, leading to better insights and decision-making.
For example, a survey may ask about respondents' time to ROI and their preferred features. By using cross-tabulation, you can analyze the correlation between a short time to ROI and the features respondents used, helping to identify any potential connections.
This type of analysis can help you improve your data quality, integrity, and credibility.
Get the full cross-tabbing rundown from Myles Bradwell, our VP of Customer Success, right here:
New product feature🚨: Email editor
You can now edit the content of your survey emails, plus choose the date and time you want to send each email.
Get the full email editor rundown again from Myles:
When using the UserEvidence web app, you can review the entire survey campaign, making copy changes to both email copy and subject lines, plus add or subtract touches.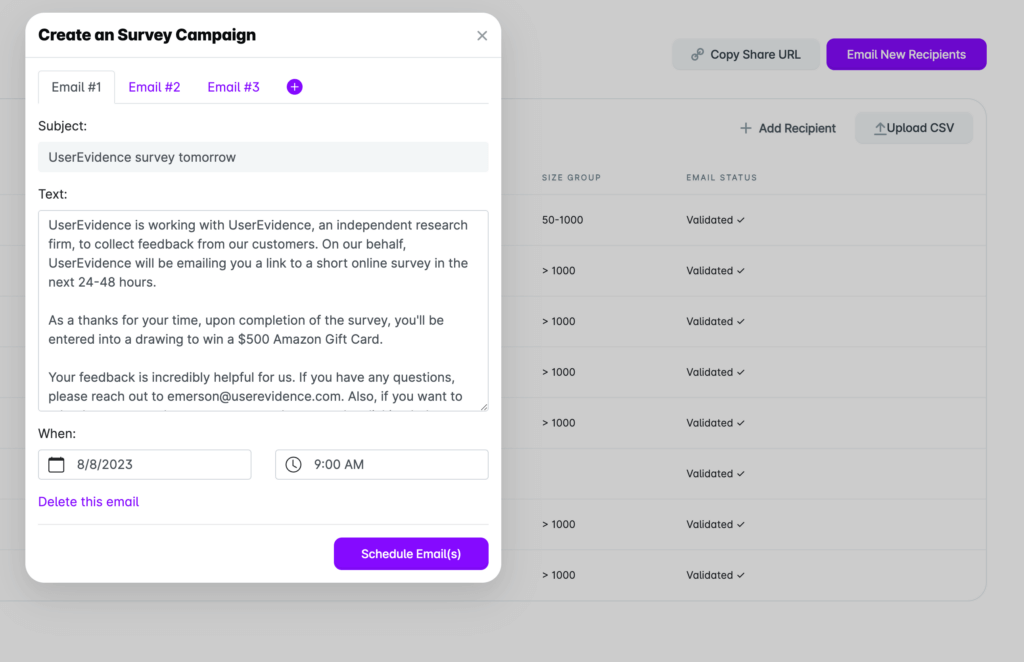 A few housekeeping reminders before running your next survey
Two housekeeping reminders before running your next survey:
To be safe, always double check the email send dates/times
By default, we offer your survey takers an entry into our $500 monthly drawing. In the event you have a different incentive or do not want to incentivize the survey, be sure to edit the text in the email copy accordingly
We want your feedback, we promise
If you have feedback on how to make these product updates better, reach out to your CSM, email me at mark@userevidence.com or shoot me a DM on LinkedIn.