You know what's interesting? The way we shop as consumers has started to spill over into the world of B2B buying. Think about it for a second…
How much time do we spend researching online before we make a big purchase, or heck, even deciding on something as simple as where to eat? Whether we realize it or not, reading those online reviews has an impact on the decisions we make. So why not take advantage of today's buying habits and strengthen your online reputation with genuine peer reviews?
In the B2B space, collecting this data is easier than ever with the 6 peer review sites in this blog. What's really cool is that each of these review platforms has its own specialty and target audience. You know potential buyers are going to come looking; It's time to have great reviews waiting on 'em.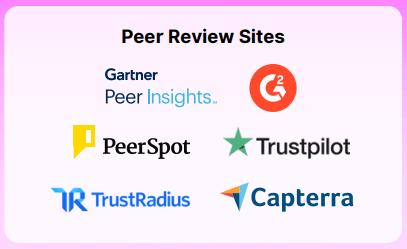 These platforms are presented in no particular order. ⬇️
Gartner Peer Insights
Gartner Peer Insights offers buyers trustworthy reviews sourced directly from authentic users. With continually changing trending categories and regular additions of new ones, this platform simplifies the search process. For more info on Gartner Peer Insights, explore their G2 profile.
G2 score: 4.6 out of 5 stars
G2
G2, the all-encompassing peer review platform, helps both individuals and businesses. With popular categories like eCommerce platforms, project management, marketing automation, and more, your business can bolster its reputation by receiving authentic customer feedback. Explore their website for more on G2.
PeerSpot
PeerSpot guarantees authentic reviews authored by genuine users. This eliminates the risk of fake or spammy feedback. Their unique comparison feature allows users to directly pit two solutions against each other. Dive deeper into PeerSpot's offerings by visiting their website.
Trustpilot
TrustPilot allows businesses to leverage the full potential of their customer reviews with real-time insights. This dynamic customer review platform strategically gathers reviews at critical points in a customer's journey. This gives organizations the ability to showcase these testimonials in their usual buyer interaction touchpoints, such as your website, social media, and marketing collateral. For a detailed breakdown, check out TrustPilot's G2 profile.
G2 score: 3.6 out of 5 stars
TrustRadius
TrustRadius is a great option when it comes to dependable software reviews.  From day one, TrustRadius prioritizes trust and accuracy by carefully verifying every reviewer and examining each review. This peer review platform takes pride in its ad-free, unbiased approach, with no paid placements or lead-selling practices that could compromise results. To learn more about TrustRadius, check them out on G2.
G2 score: 3.5 out of 5 stars
Capterra
Capterra is a solid option for those seeking credible and dependable software reviews. With a wealth of insights from verified users, it's great for quickly gaining trust with potential buyers. These reviews offer a real-world glimpse into your product, allowing buyers to connect on a personal level through relatable experiences. Browse around their website to learn more about their unique solution. 
Final Thoughts
When you're on the hunt for peer review sites, it's a good idea to whip up a good ol' pros and cons list. It'll help you pinpoint the perfect fit as each of them is geared toward various customer markets. With incoming honest reviews, you'll be able to quickly win over potential buyers and build that trust factor. 💪
For more great customer martech, take a deep dive into our Customer Marketing Technology Landscape. It's your one-stop shop for discovering tons of other great solutions to supercharge your marketing strategy.