Did you know that customer-centric companies are scoring 60% more in profits compared to those who aren't customer-focused? Hell of an impact, wouldn't you say?
We think so. That's why we're leaning towards believing this approach isn't just an idea anymore—it's here to stay. So, here's the deal: If you're looking to build a solid customer base and boost your referrals, community software might just be the ace you need up your sleeve. ♣️
In this blog, we're serving up some heavy hitters in community software, loyalty, and referrals. Take a few minutes, and you might just find a great fit for your current business model.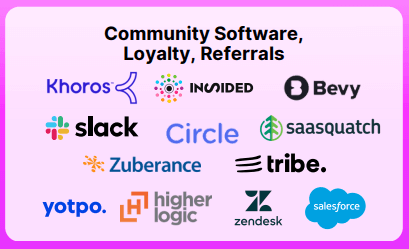 These platforms are presented in no particular order. ⬇️
Khoros
Khoros lets you craft unique digital experiences for your audience. Streamlining social campaign management, it has never been easier to foster a thriving community and attract a larger audience to your brand. With countless customer interactions occurring across your communication channels, Khoros can assist you in swiftly collecting valuable feedback and gaining insights. Learn more about Khoros on G2.
G2 Score: 4 out of 5 stars
inSided
inSided was recently acquired by Gainsight. This platform is known as a customer success community software platform, which integrates an online community with a user-generated self-service knowledge base. The result is a platform that boosts customer engagement and satisfaction. By reducing incoming questions by 50%, the platform gives back valuable time to your customer success team. Discover why users love Gainsight (formerly inSided) on G2.
G2 Score: 4.4 out of 5 stars
Bevy
For community events, Bevy provides a community software platform equipped with all the necessary tools to help you organize, promote, and host your dream event. With enterprise-grade analytics, you can gain insights into your customers, enabling you to create an impactful customer-to-customer (C2C) community. Whether you're planning in-person or virtual events, Bevy lets you transform your brand advocates into community leaders. Explore the Bevy community events platform by visiting G2.
G2 Score: 4.8 out of 5 stars
Slack
If your company uses an internal messaging system, you probably already know Slack. Tailored for virtual connections among employees, Slack enables team members to engage in instant messaging. Think of it as a professional version of Discord. With integrations available for a wide and continually expanding array of tools used daily by your team, Slack has the potential to enhance team coordination. Learn more about Slack by checking them out on G2.
G2 Score: 4.5 out of 5 stars
Circle
Circle's distinctive features enable you to integrate the strength of community with your content. Leveraging video content, Circle lets you and your users establish live streams, chat rooms, event venues, discussion boards, and various other interactive elements, fostering a distinct fusion of content and community. Whether you're a brand, a coaching community, a membership group, or any other entity, Circle is your solution for crafting a great community experience. Explore the full array of features Circle has to offer on this page.
SaaSquatch
SaaSquatch is a loyalty and referral software designed specifically for SaaS tech companies. This versatile tool integrates with your website or app, meeting your customers right where they are. Within the software, your customers can refer others, unlock rewards, manage VIP programs, and enjoy a range of other features. SaaSquatch empowers you to craft a highly customizable brand experience that encourages customers to refer others through a rewarding system. Explore the advantages of SaaSquatch on G2.
G2 Score: 4.5 out of 5 stars
Zuberance
Zuberance is a comprehensive word-of-mouth marketing agency. Their expertise lies in enhancing your ratings on third-party websites through SEO-friendly reviews composed by happy customers who have transformed into advocates. With a suite of advocate analytics, answers, referrals, and other resources, Zuberance is your partner in expanding your business through the influential channel of word-of-mouth marketing. Check out Zuberance's word-of-mouth marketing on G2.
G2 Score: 4.4 out of 5 stars
Tribe
Tribe, now known as Bettermode, lets you expand your content creation efforts, delivering SEO-friendly content primed for effective social sharing. Managing your online community is made simple, ensuring member safety and safeguarding your brand's reputation. Tribe also integrates with various third-party tools to blend into your tech stack. Explore the multitude of benefits offered by Bettermode on G2.
G2 Score: 4.6 out of 5 stars
Yotpo
Yotpo specializes in eCommerce marketing, using a connected data layer to deliver valuable insights. These insights allow your team to make informed, data-driven choices that enhance engagement, increase sales, and elevate customer value. Yotpo facilitates reaching your customers wherever they may be through SMS alerts, reviews, and user-generated content. Dive deeper into Yotpo's extensive feature set by exploring their G2.
G2 Score: 4.3 out of 5 stars
Higher Logic
Higher Logic is a platform created to facilitate the creation of a thriving community where your customers can make connections not just with your brand, but also with one another. Depending on your specific needs, Higher Logic provides versatile solutions ranging from handling member payment structures to curating user-generated support materials. The flexible structure of Higher Logic's offerings helps to simplify customer engagement. Explore further insights into Higher Logic's capabilities on G2.
G2 Score: 4.3 out of 5 stars
Zendesk
Zendesk offers a straightforward (yet powerful) software solution for customer support. Through Zendesk's cross-channel support capabilities, your customer success team can deliver the assistance your audience needs—fast. Zendesk integrates with your most frequently used apps like Slack, JIRA, Shopify, and more. As a customer-centric CRM, Zendesk is purpose-built to promote stronger relationships with your customers. Explore the awesome tech provided by Zendesk on G2.
G2 Score: 4.3 out of 5 stars
Salesforce
As a prominent CRM platform, Salesforce has achieved widespread recognition. And understandably so. By automating various tasks and offering support for lead management, pipeline forecasting, and beyond, Salesforce empowers sales representatives to respond swiftly to leads. Leveraging data insights into customer interactions, you can craft more robust and finely targeted marketing campaigns to engage your buyers effectively. Explore additional ways in which Salesforce can enhance your customer engagement by visiting them on G2.
G2 Score: 4.3 out of 5 stars
Final Thoughts
The goal of using one of these platforms is to turn those happy customers into your brand's most enthusiastic advocates. With these great tools, your existing customers can step up and provide user-generated customer support, and even the newcomers can quickly build trust with the seasoned ones. The end result? A happy, engaged group of consumers. 😎
If you want to dive deeper into the world of (proven) customer martech, we've got you covered. Check out our curated customer marketing landscape featuring over 80+ vendors across 12 marketing categories.